Netflix Inc. is raising the price of its most popular U.S. service plan by 10 percent to $11 to help pay for the streaming giant's ambitious TV and movie budget.
Netflix shares surged as much as 4.5 percent to an intraday record, a sign that investors are confident the company can keep expanding its subscriber base while charging more for its products.  
Besides the higher rate for the most widely used package, Netflix boosted its premium plan 17 percent to $14. Both offer high-definition viewing and let families watch on multiple screens. The basic $8 plan will stay the same. The company will begin notifying current users on Oct. 19 and roll out the price hike over several months.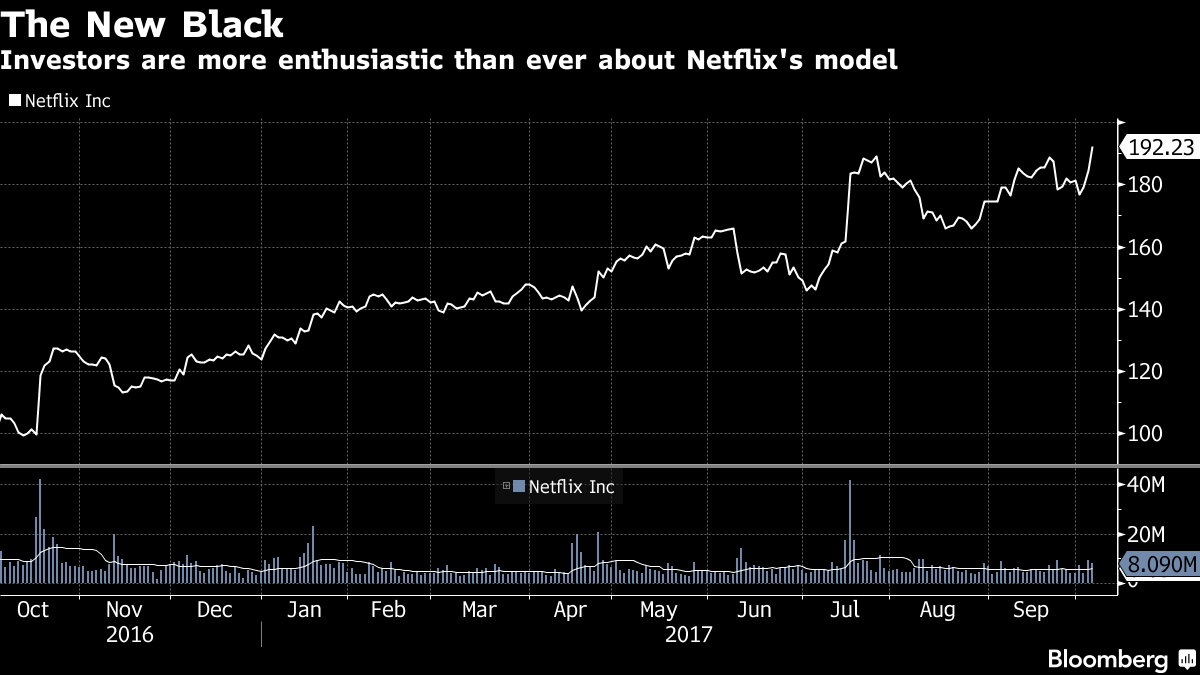 Netflix's business is sensitive to even small price changes. The streaming-video provider announced an increase of $1 a month for its most popular streaming subscription in 2015 for new customers in the U.S., Canada and parts of Latin America. That caused subscriber growth to slow to a three-year low, the company said in July 2016, sending shares plummeting.
In 2011, the company lost 800,000 U.S. customers in one quarter after splitting its streaming and DVD services and effectively doubling the cost for some consumers.
Customers Willing
In both cases, Netflix ultimately was able to keep growing, proving customers are willing to pay more for its exclusive programming. The company ended the second quarter with almost 104 million users, with a majority outside the U.S.
The streaming service is already profitable in the U.S., and raising prices again at home will improve margins. A few foreign territories also produce profit.
Netflix subscribers are unlikely to cancel in droves after this latest price increase because the service offers more content now and is cheaper than many new rivals, analysts said.
"We believe that Netflix's pricing power has increased materially over the past few years as their content slate and technology has improved," Mark Mahaney, an analyst at RBC Capital Markets, said in a note Thursday.
Read Gadfly's take on why Netflix's price increase is smart.
With new online TV services from Hulu and YouTube entering the market at about $40 a month, Netflix seems relatively inexpensive, said Bloomberg Intelligence analyst Geetha Ranganathan.
"I don't think people are going to be as price sensitive," she said. "Netflix has become a must-have for most people. The breadth and depth of the content is incomparable."
Programming Spending
Netflix is spending $6 billion on programming this year, and will increase that to $7 billion next year. The company has declined to set a cap on how much it will spend to lure viewers away from other TV networks, and Chief Financial Officer David Wells has suggested the company may soon spend $20 million on a single episode of TV. The sixth season of HBO's "Game of Thrones" was reported to have cost $10 million per episode.
While Netflix reports a profit every year, it lost $2.1 billion in free cash flow in the 12 months ending June 30, due to spending on original series. Netflix will release more than 200 of its own pieces this year, ranging from TV shows and movies to documentaries and stand-up specials.
Shares of Los Gatos, California-based Netflix gained 4.1 percent to $192.03 at 12:42 p.m. in New York.
While the company has overcome resistance to raising prices in the U.S., the existing monthly fee limits its potential market in poorer parts of the world. Netflix expanded to most of Asia, Africa and the Middle East in January 2016, and has yet to sign up many customers in those regions.
The company would like to derive more than 80 percent of its customers from outside the U.S., Chief Executive Officer Reed Hastings has said.
More From this publisher : HERE
Tags: products offer Thursday world TV shows
Related Post "Netflix Increases Price 10% for Its Most Popular U.S. Plan"