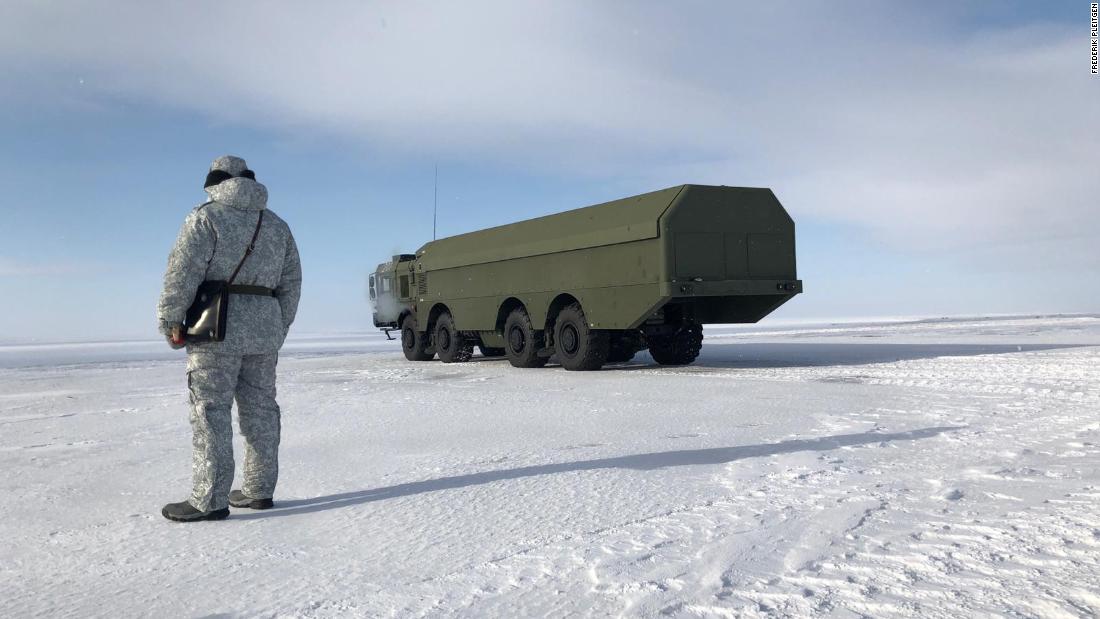 Kotelny Island, Russia (CNN)Six time zones east of Moscow, on the frozen landscape of the New Siberian Islands, a new military race is taking shape.
Situated in a vast landscape of blinding white above the Arctic Circle, the Kotelny base is closer to Alaska than to Moscow. It is one of three new Russian bases above the 75th parallel, part of a larger push by Russian President Vladimir Putin to flex his country's military muscle across its massive Arctic coastline. The Russian military says it has built
475 military sites in the past six years
, spanning from the country's western frontier with NATO borders to the Bering Strait in the east.
Russia's Northern Fleet moved into the base in 2016. There, military personnel don't have to face the harsh Arctic weather unless on duty. The "closed cycle" base has its residential and operations blocks, interconnected and the only standalone building there is a tiny Orthodox chapel some 20 meters from the heart of the base.
"Our base performs radar control, monitors the airspace, secures the Northern Sea Route and eliminates damage to the environment," said Major Vladimir Pasechnik, commander of the Northern Clover tactical group on Kotelny Island.
The base is already equipped with coastal defense missile systems and Arctic-adapted Pantsir medium-range surface-to-air missile systems able to operate in temperatures as low as -50 C. And the Russian military plans to further bolster its positions in the Arctic by testing a "polar" version of the S-400 anti-aircraft systems and
placing additional air defenses on a nearby mainland airbase.
It has a clear mission to protect Russian interests in an area that is quickly becoming geopolitical hotspot among the countries that have a claim to the Arctic territories. Russia has about 50% of the total Arctic coastline, and a pending bid with the United Nations to claim some 1.2 million square kilometers more of the Arctic shelf.
The Northern Sea Route
The race for the Arctic is heating up, as the region's estimated huge oil and gas reserves are expected to become more accessible as climate change accelerates the rate of ice melt.
Putin has described the Arctic as "the most important region that will provide for the future of Russia" and created a new Ministry for Far East and Arctic Development. In a presidential decree issued shortly after his 2018 inauguration, Putin ordered a tenfold increase of shipping traffic via Northern Sea Route by 2024.
Russia is also tightening its grip on the Northern Sea Route, which falls into the Russian Exclusive Economic Zone and cuts the shipping time from Europe to Asia by 40% compared to Suez Canal route. This month, Moscow announced that foreign ships transiting through would be required to submit a 45-day notice, take a Russian pilot aboard and pay increased transit fees.
The Russian race to the Arctic relies heavily on Chinese investment, and fast-track shipping via the Northern Sea Route is especially attractive to Beijing. Today, China is Moscow's biggest client for Northern Sea Route shipments: Russia sent liquified natural gas tankers to China via Arctic waters for the first time in July 2018, and lent Russian icebreakers to escort a convoy of Chinese cargo vessels to Europe that fall.
Most vessels passing through the Northern Sea Route risk being stranded in thick ice and require an icebreaker to guide them through the Arctic waters. Russia is currently the only country with an operational nuclear icebreaking fleet. However, that might change soon: China announced last month
plans to build its own nuclear-powered icebreaker
to change its "near-Arctic state" status.
The US is taking notice
The US government is now taking notice of Russia's activity up north. Washington has seen recent discussion about the need to advance its own Arctic strategy, and the US Coast Guard is also making a new heavy icebreaker a funding priority.
"I think we are starting to finally pay attention," Navy Rear Admiral David W. Titley told CNN in a phone interview. "[The Arctic] was basically ignored in the last couple of years. But our rivals have serious plans with serious resources behind them for understanding how to operate up there. So as we see now, I'd say belatedly there is some interest in the US."
Last year, NATO staged Trident Juncture drills with 40,000 troops, its biggest military exercise in Norway in more than a decade. In January, US Navy Secretary Richard Spencer said the Navy is working out a plan to reopen Adak base in Alaska and send surface ships into the Arctic waters for the first time in the summer.
The Russians, in turn, will be holding large-scale drills this year. The Tsentr-2019 exercises in the Arctic archipelagos of Novaya Zemlya and New Siberian Islands will involve what the Russian military calls "a serious test of the battle capacities" of its Arctic forces.
Original Article : HERE ; This post was curated & posted using : RealSpecific
Thank you for taking the time to read our article.

If you enjoyed our content, we'd really appreciate some "love" with a share or two.

And ... Don't forget to have fun!